God Bless America
I created this graphic to express my love, pride, pain, and anger.

Love for my country; Pride in my countrymen; Pain from the horrible attacks upon us;
And unmeasurable anger at those who wish to destroy us.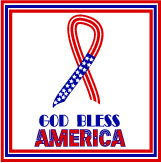 You are welcome to use this graphic on your web site or to attach to your e-mails.
Right click on the image and choose "Save Picture As" .
If you would like a printable version you can click Here


Some interesting Links
ESD-Forum
Free Patriotic Music Download Page
Copyright © 2000-2005 Envision Site Design
All rights reserved.